NASBITE International
NASBITE supports training and education in the field of global business.
Contact - NASBITE International
2331 Rock Spring Road
Forest Hill MD 21050
United States
Send a message - NASBITE International
Legal information - NASBITE International
| | |
| --- | --- |
| Nature | Head Office |
| Year established | 1988 |
| Describe your Company and attract Business opportunities (NAI12) | Convention and Trade Show Organizers (561920) |
| No employees | 0-9 Employees |
| Kompass ID? | US946509 |
| Kompass member for | + 2 years |
| Membership | Booster |
Presentation - NASBITE International
NASBITE International is a non-profit 501(c)3 corporation organized under the laws of Ohio, and headquartered in Maryland. Established over 30 years ago as an association of North American Small Business International Trade Educators (NASBITE), NASBITE International has become the leading U.S. organization supporting the training and education in the field of global business. We are a professional organization of global trade educators, trainers, service providers and exporters and our mission is "to advance global business practice, education and training" – this is accomplished by:
Facilitating educators, trainers and exporters in navigating and leveraging the intersection of their collective interests and needs related to global business
Providing resources to people developing global business education, training and assistance programs
Managing NASBITE International's credentialing programs and services, including the Certified Global Business Professional (CGBP)
Presenting an annual National Small Business Exporters Summit, which showcases best-in-class exporters and facilitates sharing of export excellence strategies
Sponsoring the NASBITE Annual Conference, which draws global trade educators, exporters, and students from across North America for education and networking opportunities
Helping businesses become more globally competitive
Company catalogues - NASBITE International
Company's Videos - NASBITE International
Brands - NASBITE International
News - NASBITE International
Participate in an event
2020 NASBITE Annual Conference & 3rd Annual National Small Business Exporters Summit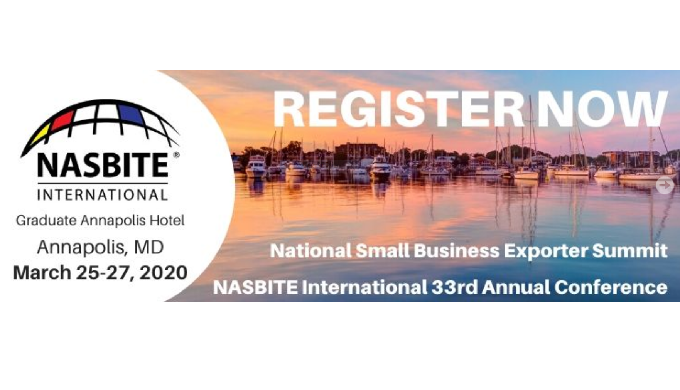 Date: 24 March 2020 12:00 PM
End: 26 March 2020 9:00 PM
Location: 126 West Street Annapolis, MD 21401
2020 NASBITE Annual Conference & 3rd Annual National Small Business Exporters Summit
March 25, 2020 @ 8:00 AM - March 27, 2020 @ 5:00 PM
The 2020 NASBITE Annual Conference will be held in Annapolis, MD at the Hotel Annapolis March 26-27, 2020.

The NASBITE International Annual Conference, March 26-27, draws educators, exporters, specialists, and students from all across North America. The Conference offers a variety of education and networking opportunities and seeks to recognize outstanding and innovative developments in the area of international trade education, counseling, training, and research.
The National Small Business Exporter Summit on March 25 showcases best-in-class exporters from around the country who share their expertise in exporting excellence.
Don't miss this chance to make the most of all these beneficial exchanges in one fantastic setting!
Organize an event
CGBP Exam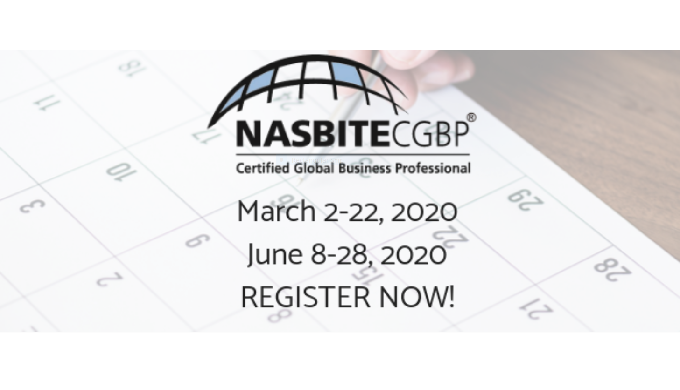 Date: 31 August 2019 4:00 AM
End: 30 June 2020 3:59 AM
Location: https://netforumpro.com/eWeb/DynamicPage.aspx?Site=NASBITE&WebCode=EventList&FromSearchControl=Yes
The NASBITE Certified Global Business Professional (CGBP) certification is based on a 165 question, multiple-choice exam.
Exam Format
165 multiple choice questions – 150 of these questions as "testable" questions and count toward your final exam score; 15 questions are pre-test questions that NASBITE International is testing at this time. The pre-test questions do not count towards your exam score. Pretest questions are randomly distributed throughout the exam.
All questions are multiple choice questions that feature four choices and only one correct answer.
You have 3-hours (180 minutes) available to take the exam, although candidates should plan on spending some time before the exam to set up with the virtual proctor
A running time-clock appears in the upper right-hand corner of the exam screen, so you can easily monitor the time available to you.
The CGBP certifies that a candidate is competent in the following four primary domains:
Global Business Management
Global Marketing
Supply Chain Management
Trade Finance
Within each area are the following five "Threads", which cross all four areas listed above:
Documentation
Legal and Regulatory Compliance
Intercultural Awareness
Technology
Resources
Within each of these areas and threads, there are tasks and knowledge statements tested through the CGBP exam. The tasks and knowledge statements can be found on the
NASBITE Practice Delineation
.
Exam Qualifications
The CGBP is designed to meet the needs of individuals working in the profession or studying for a career related to global commerce. Candidates from both small and large companies will benefit as will students in two or four year degree programs. The credential is also suitable for individuals working in trade assistance organizations, trade promotion agencies, and related educational institutions.
In order to sit for the CGBP exam, the candidate must have completed either two years of college-level study (in any field), or have worked in the field of global commerce for two or more years.
When registering for the exam you will be asked to submit qualification documents to verify your college and/or work experience. Documents must be submitted prior to taking the exam. Examples of qualification documents are resumes, transcripts, etc.
Achieving Certification
To receive the NASBITE CGBP designation a candidate must pass the CGBP exam and have completed either two-years of college-level study, or have worked in global commerce for two years.
Scores on the CGBP Examination are reported as scaled scores where the highest possible score is 800 and the lowest reported score is 200. A scaled score of at least 500 is required to pass the examination.
The national CGBP Examination is criterion-referenced. That means your exam score is not compared to others who took the exam (often known as test-curving). Rather, your score is based strictly on the number of questions answered correctly. There is no deduction for wrong answers so you should answer all questions – even ones for which you are not sure of the answer.
The passing score on the CGBP Examination was determined by a panel of experts in the field of international business. Candidates must obtain the minimum scaled score of 500 to pass regardless of when or where they take the exam. A scaled score is reported rather than a raw score because the scaled score will not vary due to slight differences from test to test. There is no minimum or maximum number of candidates that will be awarded the CGBP designation for each exam.
Candidates are notified if they passed the exam within four weeks after the close of a test window. Candidates will receive notification their score total, and their score in each of the four domains.
The exam is closed book. You are not permitted to bring any notes or resources to the exam. Calculators are not needed and are not permitted.
Exam Fees
The
exam fee for first time exam takers is $395.00.
Candidates are allowed to retest if they do not pass the exam on the first try. However, candidates may not take the exam more than twice in one year.
Retake fees are as follows:
Exam Registration (Failed Exam) – $150.00
Exam Registration (No Show on Exam) – $100.00
Payment Forms
Major credit cards (Visa, MasterCard, American Express, and Discover) and checks are accepted forms of payment.
Refund Policy
All exam fees are
non-refundable
.
Registering Online
When registering online for your exam, be sure to select the correct exam fee. If you are unsure about your past exam status, please contact NASBITE Headquarters.
.
If you select the "Bill Me" option when paying for your exam online, you will be sent an invoice for your exam registration. Your exam invoice must be paid by the registration deadline for your window or you will not be permitted to test. If payment has not been received by the registration deadline, you will be removed from the testing window.
CGBP Benefits
Candidates receiving the NASBITE CGBP designation may use the credential logo and wordmark on resumes and business cards identifying them to employers and the public as individuals proficient in global commerce. For companies, the credential establishes a professional development goal for current and future employees. The credential also helps individuals diversify their skills in global commerce and assure they understand a broad range of topics rather than just the specific field within international trade that they have experienced. Learn more about
CGBP Careers
.
Click here
to download a quick reference guide that outlines the certification and its requirements.
.
Learn more about
Preparing for the CGBP Exam
or
REGISTER for the CGBP Exam
Location - NASBITE International
Opening hours - NASBITE International
Activities - NASBITE International
Producer
Distributor
Service provider
Main activities within the Kompass classification
Other classifications (for some countries)
NAICS (US 2012) : Convention and Trade Show Organizers (561920)
Secondary activities within the Kompass classification