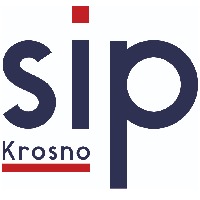 SIP Krosno Spółdzielnia Zakład Pracy Chronionej
We design, consult and manufacture of POS system and equipment store.
Contact - SIP Krosno Spółdzielnia Zakład Pracy Chronionej
ul. Czajkowskiego 82
38-400 Krosno
Poland
Send a message - SIP Krosno Spółdzielnia Zakład Pracy Chronionej
Legal information - SIP Krosno Spółdzielnia Zakład Pracy Chronionej
| | |
| --- | --- |
| Nature | Head Office |
| Year established | 1950 |
| Legal form | Spółdzielnia |
| Describe your Company and attract Business opportunities | |
| Corporate capital | 5,850,000 PLN |
| REGON | 000455367 |
| Registry of Commerce/KRS | KRS 0000073566 |
| VAT no | PL6840000933 |
| No employees | 240 Employees |
| Kompass ID? | PL012560 |
| Kompass member for | + 6 years |
| Membership | Booster International |
Presentation - SIP Krosno Spółdzielnia Zakład Pracy Chronionej
We specializiruetsya in the production of stands and racks marketing, As a company, advanced support technologies, we provide comprehensive services: from the moment of application, and via a serial connection, transport, and delivery of products to the specified place. We rely on qualified and passionate staff. We hire more than 200 employees, including: designers, constructors, operators, machines for printing, machines, quality inspectors and many other professionals. We are experts in processing machines. We have 46 different machines for processing metal and plastic materials that cater to complex products demands of our customers we offer the best solutions, we specify the best materials on the properties to maintain an optimal quality of the final product. Prepared technical documentation of the service management challenges, we also produce other stages in the processing of materials. Laser cutting we Guarantee a fast and accurate treatment of the metal. Cut any shape in accordance with individual customer requirement. The maximum size of the processed sheet: 1500 x 3000 mm. We have two machines: a laser cutter SG 510 MkII 2.5 kW laser cutter HG 510 MkII 4,0 kW Width thickness reinforced materials: structural steel: 20 mm; stainless steel up to 10 mm; aluminium up to 8 mm. Flexible wire Make a cut line from Ø3 to Ø10 3 surfaces, complex shapes on CNC machines industrial performance. The process is fully automated, the device can be programmed numerically, use the same amount of accuracy. Powder coating In our factory, connected by separate connections process (in the hall of 1600m2), who use the services of powder painting. Powder coating in one of the most accurate and at the same time the most durable methods of applying the dye on the metal elements. Paint parts with a size of 1200 x 800 x 2000 mm. Printing large format printing we carry out innovative and UV radiation. The prints cover size 2500 x 1250 mm we produce on plastic, glass, plywood, metal, OOP. In the case of ready-made graphics, we invite you for a trial print, which evaluate quality and to bring possible changes in consultation with our schedules. We also develop projects from scratch, we use the client's individual needs. Performed visualization and together with the client introduce any changes to the end result was most satisfactory from the point of view of visual and attic. Milling Complex logos in plastic or an interesting pattern on the plywood? We offer assistance at each stage of the task. We present the materials and their properties, on the basis of our implementation. Cooperation with us is a conscious decision - the best decision in accordance with the expectations and needs of Customers. The maximum size of the milling to 2750 mm 1500 Flexible tubes and profiles Complete accuracy in dimensions of the flexible pipes and profiles? My provide. Gniemy pipe from? 16 to? 40. Before posting production we do what we do series drive to obtain available size comparison and repeatability. Flexible sheet, we press the edges with CNC and modern machine. Gniemy sheet thickness up to 6 mm and the range of the length of the bend is 3050 mm. We carry out even the most complex bending, the parameters of our machines. Welding TIG, MIG structural steel and stainless steel. We have 9 posts equipped systems, welding tables, which move a series of small orders. For comparison, batch fabrication, we are making special devices to ensure accuracy and repeatability. Manufacturing POS systems and equipment stores: racks of exhibition and advertising stands - racks - prezentery - feeders - various articles of drutuów and sheet metal. Services: laser cutting, powder painting, bending wire, termoformowanie, large format printing, milling, CNC pipe bending and profile bending of sheet metal, welding
Company catalogues - SIP Krosno Spółdzielnia Zakład Pracy Chronionej

Interior Collection (English)
20 pages

katalog techniczny (English)
0 pages
Company's Videos - SIP Krosno Spółdzielnia Zakład Pracy Chronionej
General Information - SIP Krosno Spółdzielnia Zakład Pracy Chronionej
Import area
West. Europe, Worldwide
Export area
Central/East Europe, West. Europe, Worldwide
Contact people - SIP Krosno Spółdzielnia Zakład Pracy Chronionej
Download the executives list
Pan Grzegorz Szmyd
Chairman (President/Prezes)
Pan Mariusz Bogaczyk
Vice-President (Vice President/Vice Prezes d/s Technicznych)
Pan Jan Liana
Sales Director/Manager (Dział Sprzedaży)
Pani Iwona Rzepecka
Marketing Director/Manager (Dział Marketingu)
News - SIP Krosno Spółdzielnia Zakład Pracy Chronionej
Previous news
Press release

stand advertising

Date: 10 August 2020 9:40 AM

Stand advertising - who are they and what are their tasks? Each of us, consumers, at the time, for everyday purchases he encounters dozens of advertising stands. Usually made from aluminum, wood, or thick cardboard, stand on the floors of shops and offer us a rich assortment of a particular company - a bottle of water or carbonated beverages, alcoholic beverages, bread, confectionery, detergents, cosmetics, or, finally, products for Pets. Coming up in turn to the counter, we installed little booths advertising of chewing gum, batonikami and cigarettes. Such decisions we will meet after visiting the stores with industrial goods, children's racks advertising everywhere. Why? To look at other implementations: https://sip.krosno.pl/realizacje/. Probably because they provide visible and effective ad copy. Stand, first of all, allows you to exhibit your company's products and make them clearly visible among hundreds of products from the same category. In addition, include, as a rule, big and bright graphics with the name and logo of the company, sometimes also allocated for an even better effect, or with a place for leaflets. Stand advertising also has a special design that allows you to store and display certain products. Drinks, for example, they can stand on shelves or hanging on special holders. Specially designed systems allow you to place them on all sorts range from the manufacturer to the consumer after it is not easy to get. From the point of view of the purchaser, the stand has many advantages, of which the most important is the visibility of certain products. But also manufacturer many get by investing in a rack. Stand advertising from the point of view of the manufacturer Stand advertising is not expensive. Of course, the final price will depend on many factors, among which we must mention first of all the size of the ordered racks, the materials from which are made, and additional options such as lighting. However, it should be recognized that the range of stands is highly diverse, and therefore the execution of the order will not be a big burden on the budget even for small companies. And the effectiveness of this form of advertising investment will allow you to quickly apply. Another thing is, of course, invest in advertising, which will raise the sales figures. Instead invest your energy and money, Internet advertising, or promotional materials such as flyers, catalogs, folders, and given to random people on the street, order a banner stand. Why? Because leaflets tend to fall into the nearest trash can, often even before the one who is at least giving them a glance. In their lagoon just stop paying them any attention. A somewhat different situation occurs when a potential customer comes into the store, for example, in the pharmacy. On the shelves postawiane in equal rows of shampoos, shower gels or washing of the body, and none of them stands out in any special way. But somewhere between audio tracks, the client bumps into the display rack. Colorful, nicely made, attractive - indicate that the store is unique and worthy of attention. Products that meet the requirements for stand advertising perceived by consumers as the most interesting and even an exclusive. Torsos of advertising not only in stores, Participation in trade fairs is a great idea for effective action advertising. Thanks to them, you can show a wider range, what fun you have in your offer. Thus, they advertise not only the brands already well known on the market, but the company just started its activities. But in order to show, to exhibit their products, you should have your own position and stand advertising - one is the minimum. If you want to present a range of different categories (e.g., carts for children, and clothing for infants), it is necessary to provide a separate rack for each of them. As a manufacturer, you have to make a decision on dimensions, systems and structures that should have Your stands or stand advertising. In this matter it would be good to establish cooperation with a company offering fabrication of racks - specialists and designers will advise you the ideal solution. And solutions available a lot. The range of companies involved in the realization of the advertising stands you will find models of aluminum, cardboard, and wood, intended to represent different kinds of articles - with shelves or holders for bottles, jars, cosmetics, or spices, baskets, specially adapted for the storage of bakery products, fruit and vegetables, or, finally, systems, holders for the products that are Packed in plastic bags. Stand advertising must have, respectively, a reliable and robust design that allows a weight lifting products issued, but essential (especially if you book racks, designed for the exhibition), their aspect is ease of installation. Quick folding and unfolding in this case a great advantage. And what products from their range to choose to the stand? This is a very important question, because these articles would have represented Your company and the whole deal. Of the bar, so it is worth a lot in what you have to offer the best products, the most attractive, designer, new products or the ones at the most affordable prices. It should provide also a place for advertising materials such as Newspapers or catalogs. Remember that the advertising sample are always complete. Good quality, modern bench is a advertising tool which will serve You for years to come. Given their high effectiveness in improving the awareness of Your company and increase its profit is really a small investment, the cost of which will pay off very quickly. Their biggest advantage is the ease and design for quick Assembly and dismantling due to the fact that the advertising stand can travel with You on specialized exhibitions, conferences and presentations. It worth while to invest in this form of promotion are advertising stands? Definitely Yes - they are easy to use and affordable, and very durable. Allow to exhibit the range and set it apart from competitors ' products. You can create your own promotional booth which will be 100% to meet Your needs and presented an advertisement in itself.

Press release

Station Hygiene

Date: 03 August 2020 10:50 AM

Hygiene station is an indispensable element in our daily life.Was designed in such a way that all the actions you can perform, eliminates the transfer of bacteria to touch public places.The hygiene station may include a dispenser for liquid disinfectant, disposable gloves, holder or napkin holder on a paper towel, the paper tray on the mask and the trash bin sanitary standards. View more https://youtu.be/_QGwy7nfmYQ ; https://youtu.be/TkaFDPgLAQc

New product

stand on bananas

Date: 27 July 2020 12:10 PM

The summer is much more readily grabbed a fruit, in spite of this, you should ensure that their exposition is urged to purchase all year round. Our booth at bananas were made of metal and graphics from plastic imitującego the tree gives it an ecological nature. Moreover, wheels with brakes provide mobility, easy to change its position on the store premises.

New product

Hygiene Stations

Date: 20 July 2020 8:45 AM

Our hygiene stations are unique,multifunctional and can be fully adapted to the needs of customers. The basic version is equipped with : a feeder paper tray for gloves disposable towel holder, a paper tray on the mask basket cap, There is a possibility of changes in the product according to the Customer:dimensions, colors, equipment, customization of the basic version relizowane in 48 hours I Wonder how this works ? we invite you to watch the promotional film https://youtu.be/_QGwy7nfmYQ

New product

Hygiene Stations

Date: 13 July 2020 10:34 AM

End: 30 September 2020 9:59 PM

Hand hygiene in public places in recent times has become a priority.With the idea of a stations of hygiene. Was designed in such a way that all the actions you can perform, eliminates the transfer of bacteria to touch public places.The hygiene station may include a dispenser for liquid disinfectant, disposable gloves, holder or napkin holder on a paper towel, the paper tray on the mask and the trash bin sanitary standards. How does it work? welcome to obejrzejnia promotional film - https://www.youtube.com/watch?v=LgEyCu_HtfA - https://www.youtube.com/watch?v=Y8tDicyIidA

New product

stand for tiles

Date: 06 July 2020 10:00 PM

End: 14 July 2020 9:59 PM

That often makes the decision to purchase-this method of exposure to this product.With this in mind, we established our stand at the presentation of the shingles.Customers can carefully browse, provides a comprehensive demonstration of the installation of the entire roofing system with the use of: educational boards, leaflets, presentations, video and model sections of the roof structure.Swivel stand design allows you to comfortably watch the display and backlight of the product and the logo attracts the attention of a potential customer.

New product

stand for floor panels

Date: 30 June 2020 10:15 AM

End: 07 July 2020 9:59 PM

Summer is a great time for changes and repairs.Introducing the stand for the exhibition of floors, Durable metal construction allows zaprtezentowanie full range of panels without fear of damage.
More news
Location - SIP Krosno Spółdzielnia Zakład Pracy Chronionej
Opening hours - SIP Krosno Spółdzielnia Zakład Pracy Chronionej
Key figures - SIP Krosno Spółdzielnia Zakład Pracy Chronionej
Activities - SIP Krosno Spółdzielnia Zakład Pracy Chronionej
Producer
Distributor
Service provider
Main activities within the Kompass classification
Secondary activities within the Kompass classification