What's new on the B2B Market?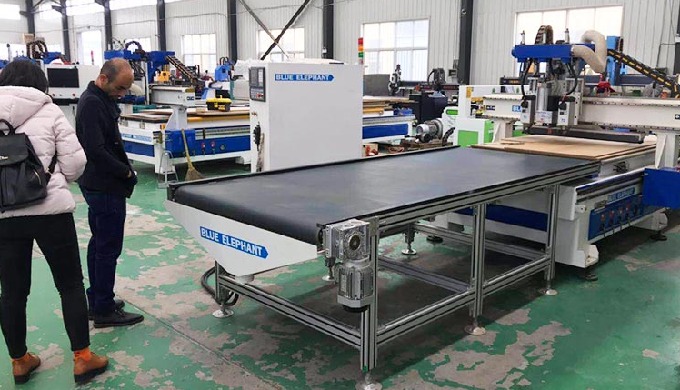 Recently, we have received a lot of customers from abroad to come to the factory to visit and study. As loyal fans of blue elephant CNC routers, they came here across the ocean. Of course, we will never live up to your long-standing trust and support.
The machines that the customer is interested in are including
1325 ATC CNC router with auto loading
, automatic edge banding machine, side drilling machine, wood sanding machine, vacuum laminating machine and others.
One of the things worth mentioning is our fully automatic loading and unloading panel furniture production line. The following advantages make it very popular in the furniture processing industry.
Bed structure: The structure of the machine is exquisite, achieving a win-win of speed and precision.
Save time: With self-contained pusher device, it's convenient for operators to take materials, saving time. It also has dual-station equipment, which can be used to maximize production efficiency.
Vacuum table: With the vacuum adsorption table, it can process different shapes of plates.
Saving labor: The automatic loading and unloading, vertical punching, rectangular cutting, profile cutting and grooving operations can be completed at the same time, which can save labor cost by about 60%.
High efficiency: The processed sheet does not collapse, and 60-80 sheets can be completed in one day.
Other combinations: Drilling and automatic tool change combination, can achieve drilling, pulling and other functions.
In addition, we can customize the machine according to your specific production needs. Leave us a message to let us know your specific processing needs.
Back to top