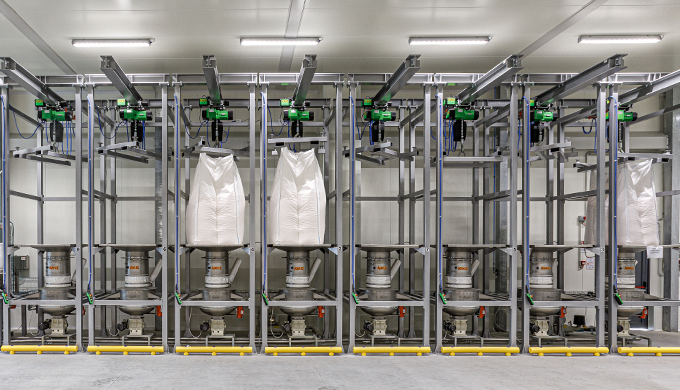 The big bags lifting structures are in galvanized steel, on request it can be produced in stainless steel. All parts in contact with the product are in stainless steel. The bag is placed on the base of the structure, keeping it vertical, a vibrator is usually applied to the bottom to help the flow of the product.

The maximum capacity o
Description of the Product
The big bags lifting structures are in galvanized steel, on request it can be produced in stainless steel. All parts in contact with the product are in stainless steel. The bag is placed on the base of the structure, keeping it vertical, a vibrator is usually applied to the bottom to help the flow of the product.

The maximum capacity of the standard Big-Bag emptying machine is 2000 Kg, but these can be made also with higher flow rates, depending on the customer's needs. The system keeps the big bag vertical and slightly in traction so that it empties completely without manual intervention.

The structures can be of two types:
1) with hoist for lifting big-bags by means of a control panel
2) with hollow beams for the insertion of the big-bags by forklift

On request, the bottom hopper can be equipped with a bag emptying device.

Price of the Product
Price on request
Characteristics of the Product
Type

Storage system

Model

Big-Bag

Dimension

fino a 2000 Kg

Brand

Agriflex

Certification

Moca, UNI EN 13155 (crociera)

Origin

Italy
I want to get more details about the product
Company catalogues - AGRIFLEX S.R.L.