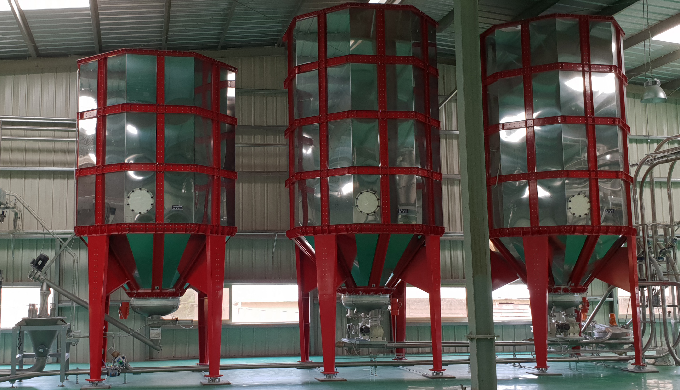 ESA silos are manufactured using butt-welded, AISI stainless steel panels with external ribs, which makes the structure self-supporting. The internal tie-rods and flange couplings typical of panel silos are therefore no longer necessary, thus improving both their suitability to store food raw materials – flours and sugars – and hyd
Description of the Product
ESA silos are manufactured using butt-welded, AISI stainless steel panels with external ribs, which makes the structure self-supporting. The internal tie-rods and flange couplings typical of panel silos are therefore no longer necessary, thus improving both their suitability to store food raw materials – flours and sugars – and hydraulic leak-tightness.
Their regular polygonal shape, free from any right angles, promotes complete discharge of the stored product. As they are constructed from panels, ESA silos are easy to install, even in enclosed and covered spaces. They typically feature a fabric filter roof, but can also be supplied with a steel cover on request.

Advantages compared to conventional systems storing raw materials in sacks:
• Reduction of personnel and machinery for handling raw materials
• Rapid storage and consistent quality in dosing
• Automated distribution of raw materials to the point of use in the production line
• No special waste
• Checking and weighing of stored loads and reduction of waste

ESA silo advantages and cost reduction benefits:
• Absence of tie-rods inside the silos for easier maintenance
• Excellent discharge of the stored material
• Improved hydraulic leak-tightness
• Absence of recesses where ingredients might build up.
Price of the Product
Price on request
Characteristics of the Product
Type

Silo

Model

Esa Silos

Dimension

up to 30 ton

Brand

Agriflex

Certification

Moca

Origin

Italy
I want to get more details about the product
Company catalogues - AGRIFLEX S.R.L.