How to choose a reliable AC copper pipe supplier
- Product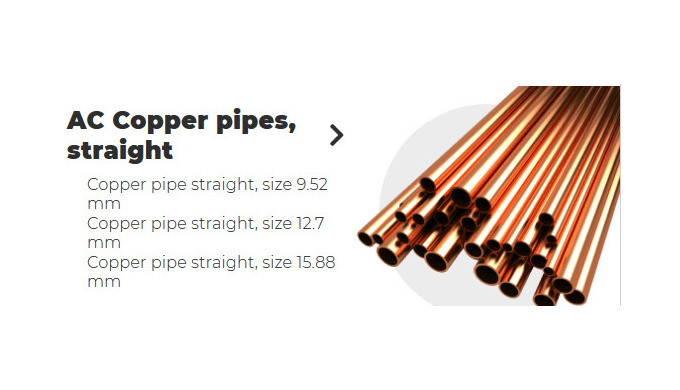 The hot climate of the UAE makes air conditioner installation one of the most sought-after services. Therefore, companies engaged in this business tend to establish a strong partnership with an AC copper pipe supplier. Thus, it is very important to find a reliable one for an HVAC business to succeed.

With
Description of the Product
The hot climate of the UAE makes air conditioner installation one of the most sought-after services. Therefore, companies engaged in this business tend to establish a strong partnership with an AC copper pipe supplier. Thus, it is very important to find a reliable one for an HVAC business to succeed.
With
Al Farid Wood and Metal Trading Company
, we will discuss here a few crucial details to pay attention to when seeking an air conditioner copper pipe supplier.
Product quality and it's proof
Of course, first of all, you need to consider the quality of copper pipes they supply. To be specific, that is not the question to take just the word. Ask your candidate-for-supplier for a more trustworthy proves.
First, they should provide you with information about whether copper pipes they offer for sale are ISO certified and tested. Second, it's a good practice to provide you an opportunity to test quality yourself. For example, you plan to buy
AC copper pipe, size½,
one of the most in-demand pipe types. Ask the supplier to arrange quality testing of their product sample. At our company, we always glad to provide such an opportunity at customers' requests.
Product availability
The second key aspect here is a supplier's ability to cover your needs in ac pipe. Simply put, little good does ensuring high product quality to you if you order and pay it just to discover later the copper tube you need is already out of stock.
Thus, it is very good when they keep the information about their product availability fully transparent and update product availability on time.
For example, at Al Farid Wood and Metal Trading Company, we always mark with a label "in stock" only the goods we really can supply and update this labeling on an on-going basis.
What about the price?
To tell the truth, there is the third aspect to consider when choosing a supplier, a product price. However, the best practice here is very obvious and common as it directly touches your bottom line.
To put it short, follow a simple rule when it comes to a price token. Don't let the low price fool you to sacrifice quality but always compare these two facets and choose the golden mean.
Price of the Product
Price not indicated
Category of the Product