MP-SC Screw conveyors
- Product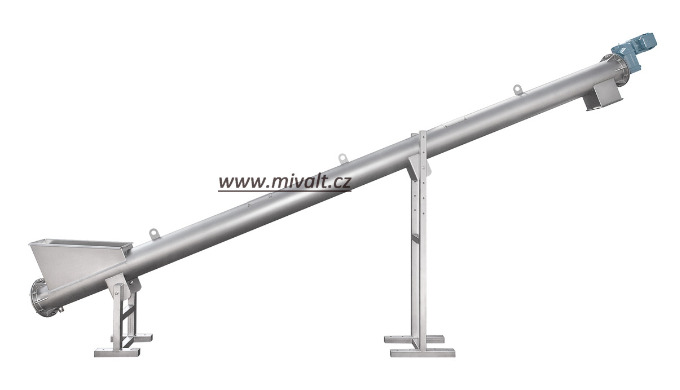 Screw conveyor is used for transportation of solid cake from MP-DW series dewatering machines. In comparison with belt conveyors MP-BC series, screw conveyor is capable of transporting sludge to bigger heights. In addition, cross-section of screw conveyor is smaller, compared to belt conveyor.
Conveyor (except of ball bearing and gear motor)
Description of the Product
Screw conveyor is used for transportation of solid cake from MP-DW series dewatering machines. In comparison with belt conveyors MP-BC series, screw conveyor is capable of transporting sludge to bigger heights. In addition, cross-section of screw conveyor is smaller, compared to belt conveyor.
Conveyor (except of ball bearing and gear motor) is made of DIN1.4301 (AISI304) stainless steel. Screw shaft is inserted into tube, conveyor does not include any lining material, and thus it is not required to replace wearing parts.
Price of the Product
Price on request
Characteristics of the Product
Type

MP-SC

Model

MP-SC-3.5, MP-SC-5, MP-SC-6

Dimension

Transportation length 3,3; 4,6 a 5,6m

Brand

MIVALT

Certification

Declaration of Conformity MP-SC

Origin

Czech Republic
I want to get more details about the product
Company catalogues - MIVALT s.r.o.