MSP Manual polymer preparation station
- Product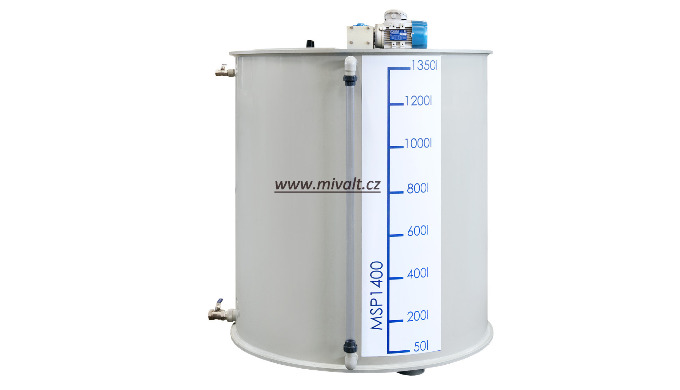 Manual polymer stations are used to prepare a solution of concentrated polymer. The station is a cylindrical tank, equipped with a stirrer, water filling, polymer dosing and starting the stirrer is manual, using the operator. Tanks are supplied in various sizes (300, 600, 1100, 1400 and 2600l), tanks are equipped with watermark, 3f motor with manua
Description of the Product
Manual polymer stations are used to prepare a solution of concentrated polymer. The station is a cylindrical tank, equipped with a stirrer, water filling, polymer dosing and starting the stirrer is manual, using the operator. Tanks are supplied in various sizes (300, 600, 1100, 1400 and 2600l), tanks are equipped with watermark, 3f motor with manual, cam switch and minimum level monitoring as standard.
Price of the Product
Price on request
Characteristics of the Product
Type

MSP

Model

MSP300 - MSP2600

Dimension

300l - 2600l

Brand

MIVALT

Certification

Declaration of Conformity APS- MSP

Origin

Czech Republic
I want to get more details about the product
Company catalogues - MIVALT s.r.o.