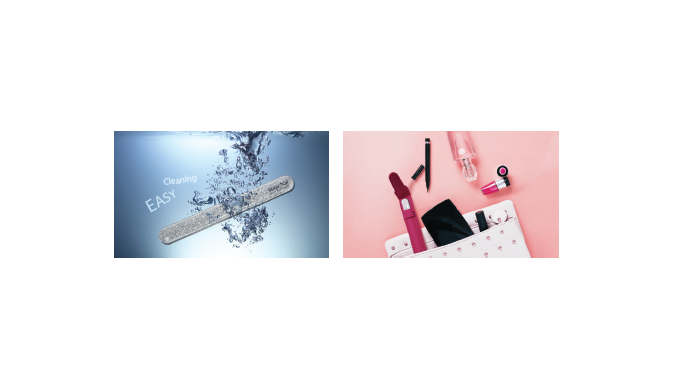 Takes care of your nails with one simple step
The existing 3~6 stage process that uses a rough
buffer can be replaced by this fast and simple onestage
process.
Dust-free Nail Shiner
The Magic Nail Shiner is a dust free tool, so you can
take care of your nails in a very clean way.
Made in Korea
Every m
Description of the Product
Takes care of your nails with one simple step
The existing 3~6 stage process that uses a rough
buffer can be replaced by this fast and simple onestage
process.
Dust-free Nail Shiner
The Magic Nail Shiner is a dust free tool, so you can
take care of your nails in a very clean way.
Made in Korea
Every manufacturing process is done in South Korea.
Environment-friendly glass
The high quality of glass prevents the tool from wearing
out quickly making it last for a long period of time.
Exposy adhesive
This product uses the Epoxy: even if it breaks,the
pieces remain together, which makes this a safe
product to use.
Anyone can use this product
Pregnant women, babies, students, teachers, beauty
salon staff, cooks, nurses, etc. Any person of any age
or gender can use this product.
Anytime~ Anywhere!
You can store the Magic Nail Shiner in a luxurious
leather pouch(PU) and use it anywhere anytime!
Price of the Product
Price not indicated
Category of the Product
I want to get more details about the product
Company catalogues - The Korean Box
Product catalog (English)
8 pages

Company Information (English)
26 pages